Help your patients to walk without pain. Manufacturing and courtesy design  for professionals since 2011.
3D DIGITAL TECHNOLOGY FOR PODIATRY.
Suitfeet

offers the podiatrist an integral system of

scanning, design and manufacture of orthotic

, providing the

Suitfeet 3DScan Hardware

to clinics without 

Initial Investment.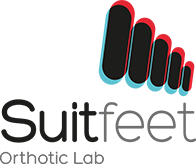 WHY CHOOSE US?
La

The Mission of SuiFeet

is to help our chiropodist colleagues improve their results thanks to our system.